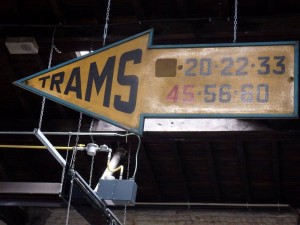 The 2017 season does not only see our historical trams return at Parc Cinquantenaire: inside the Museum there are loads of improvements and new attractions that make a visit even more worthwhile.
A number of signs and signposts from the 1950s and 1960s have gotten a spot in the "lower hall". Additionally, the inside lighting of our Vicinal tram and of two buses is working again, thanks to the wonders of LED technology and the creativity of our volunteers.
But the biggest eye-catcher is – undoubtedly – the fact that every vehicle in the "lower hall" is now accessible to you, our visitor! We've had to come up with an original solution that was both aesthetically pleasing and safe. It is absolutely imperative that the drivers' seats and conductor seats in our vehicles remain out of reach. After careful deliberation we chose for garden fencing: by cutting and folding these fences we have succeeded in closing off steering wheels, drivers' seats and other technical equipment.
Almost as remarkable are two videos that we are showing as part of a test: on our "type N" motor car you can see "super 8" images of the Vicinal railways in Brussels during the 1960s, on the Miesse bus we show a very nice movie on "traffic in Brussels in 1949". In the future our collaboration with SONUMA (the organization that manages public broadcaster RTBF's audiovisual archives) will allow us to show even more interesting videos all over the Museum. Enjoy!