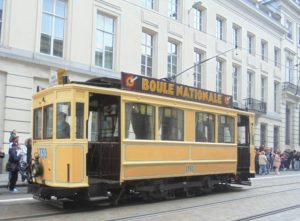 It is with great pleasure that we can announce the restart of our special heritage trips through rue Royale and avenue Louise, on board one of our belle epoque trams!
This Saturday and Sunday, 15 and 16 August, we offer two +/- 30 minute trips starting at place Poelaert (in front of the Palais de Justice): Poelaert – rue Royale – Ste. Marie and back, or Poelaert – avenue Louise – Legrand (Bois de la Cambre) and back.
Tickets only cost €6 per trip, children under the age of 6 ride for free. However, reservations are mandatory, via this link.
To ensure full compliance with anti-corona measures, wearing a face mask on board is mandatory for all guests over the age of 12. Disinfectant hand gel is also available.
Practical information:
– Departures from Poelaert to Ste.-Marie: 1.54 p.m. – 2.40 p.m. – 3.11 p.m. – 3.58 p.m. – 4.28 p.m. – 5.13 p.m.
– Departures from Poelaert to Legrand: 2.35 p.m. – 3.21 p.m. – 3.52 p.m. – 4.37 p.m.
These heritage trips are a great way to discover Brussels differently, and safely. You also support our association in these testing times, not just for us but for the entire tourist and cultural sector.