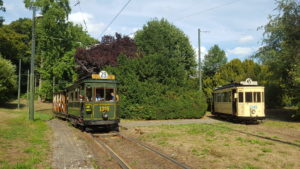 From April to late September we are open again every weekend and holidays from 1 p.m. to 6.30 p.m.
On opening days, our historical trams and buses run:
between the Museum and Tervuren ("Belle Epoque" trams)
between the Museum and Cinquantenaire/Jubelpark ("Belle Epoque" trams – not on Saturdays and holidays)
between the Museum and Bruxelles-Central/Brussel-Centraal (vintage 1950s-1970s buses – not on Saturdays)
You can find the timetables on our homepage ("Download schedules"). Reservations are no longer mandatory but if you would like to plan your visit our partner Visit.Brussels allows you to make a reservation and prepay your ticket:
for a trip with a heritage vehicle (including a visit to the Museum) : click here
for a visit to the Museum only: click here
This year we will also restart our trips in the city centre along rue Royale, de la Régence and on avenue Louise. We will run this service on:
Easter Monday 18/04
Labour Day 01/05
"Irisfeest" 08/05
Assumption Day 15/08
All practical information regarding these special trips (prices and timetables) will be communicated separately at a later time.
And, last but not least, this is a special year because on the 22nd of May our Museum will celebrate its 40th birthday! Plenty of activities at the Museum, heritage trams and buses between the Museum, Cinquantenaire/Jubelpark and Roodebeek on bd de la Woluwe, and even on bus line 80! Stay in touch with us for more information.