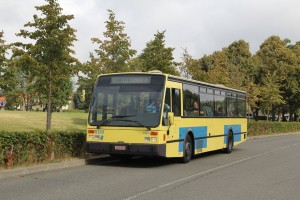 The Van Hool "A500" were the first three-door, fully low-floor buses (with passenger access at 500 millemetres from the ground) that STIB/MIVB received in the early 1990s. More than 600 vehicles of this type were built. The idea behind these buses was to give passengers easy access through all three doors, a concept that was later abandoned because it also allowed for easier fare dodging.
The "A500" were also among the first vehicles that wore the bright yellow livery with blue rectangles, a livery that replaced the traditional primerose that had been applied since 1914.
180 "A500" were delivered to Brussels between March 1991 and August 1992. They were used until the late 2000s, mainly in the northwest and the northeast of the capital.