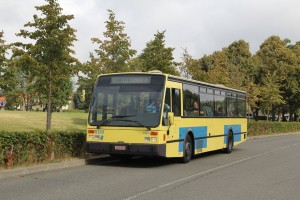 The newest and youngest piece in the Museum's collection looks as good as (brand) new! This Van Hool type A500 from 1991, numbered 8399, was presented to the Museum's members on 2 October. Previously, the vehicle had been meticulously restored by the STIB workshops.
These A500 were Brussels' first three-door buses with a full-length low floor (at a height of 500 mm). They were also the first vehicles to sport the new, bright yellow STIB livery with blue rectangles that was to replace the traditional primrose livery that dated from 1914 (!).
All in all 180 vehicles of this type were delivered between March 1991 and August 1992. They were used in revenue service well into the 2000s, especially in the northeast and the northwest of Brussels.
This album contains a few images of the restoration and the first heritage trip of our 8399.