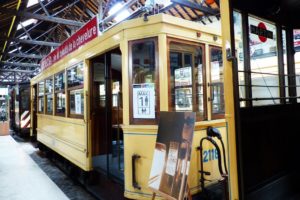 After the latest round of decisions of the National Security Council on May 13, we have the pleasure to announce that both the Museum and the Retro-shop will reopen their doors on May 21, 23 and 24 (Ascension weekend), from 1 p.m. to 5 p.m. There will be no heritage tram or bus trips.
For everyone's well-being we have to make sure that the number of visitors in the Museum, the Retro-shop and in our vehicles stays within certain limits. There will be a fixed itinerary, laid out with signposts. At multiple locations throughout the Museum there will be handpumps with hand disinfectant. The restrooms, the Retro-shop, the entrance and the cloakroom will be disinfected regularly. A number of signs will remind everyone of these measures.
To make sure we comply with government regulations, we would like to ask our visitors to buy their entrance tickets on this platform . Every visitor will get a certain time slot, allowing us to spread and limit the number of visitors per day and per hour. Entrance ticket prices remain as they were.
You can find the next opening dates in the calendar on our homepage.
Even without a heritage trip in one of our old trams or buses, a visit to the Museum is definitely worthwhile. It will allow you to escape today's worries, to revisit simpler times. We hope to see you on one of our opening days. Your support means more to us than ever!