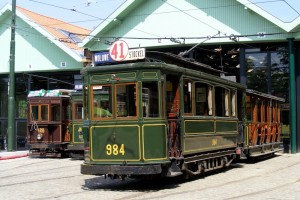 Early on in 2016 we launched an ambitious project to restore three of our oldest trams, built in 1906, 1910 and 1923. These vehicles have had a rich and long career. Until the end of the 1930s they were "part of the furniture" on Brussels' roads. Afterwards they served as work trams for another 30 years. After their final retirement they were restored to their original appearance. Since, the Museum has used them for over 30 years on its historical lines to Tervuren.
A thorough update needs to ensure that these trams can enjoy an even longer career at the Museum. A European tender was initiated to find the most suitable candidate for this job. Early next year (in 2017) we expect to find the company that will restore these three trams. The total cost will amount to € 700,000, spread out over five years and subsidized by the Brussels Capital Region. But because hidden issues (and costs) usually pop up in most similar undertakings we have asked the King Baudoin Foundation to step in and raise funds with our sympathizers.
This means that every donation of at least € 40 to this project before 31 December 2016 will entitle you to a tax break in 2017 with a slip from the Foundation (only for inhabitants of Belgium). If you would like to support us and – if you live in Belgium – enjoy a tax break, please transfer your chosen sum to account number BE10 0000 0000 0404, with "structured message" (communication structurée) "128/2854/00094".
The King Baudoin Foundation supports this project. Donations starting at €40 to the Foundation give the donor the right to receive a tax break form. (art. 145/33 CIR).