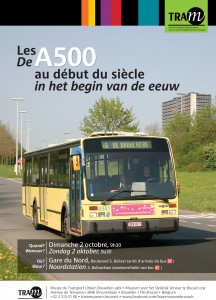 Five years after its disappearance from the STIB network, the Museum lets you rediscover the Van Hool A500 in Brussels. This large series of 180 buses was delivered to STIB in 1991. Now you can come and enjoy our – recently restored – A500 #8399: on Sunday, 2 October we will travel along a number of lines in the west of Brussels, where these buses used to roam the streets. The trip includes numerous photo (st)ops at various locations.
Practical information:
When? On Sunday, 2 October at 9.30 a.m. (arrival at around 5 p.m.)
Where? Gare du Nord/Noordstation, at the bus stop of line 57.
Price: €10 for members – €15 for non-members, payable on site. Please register by email (Nicolasvanhee@hotmail.be) or by phone on 0478/76.21.08.