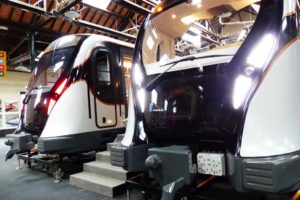 As usual, our Museum is in "winter mode" from October to March, opening its doors every second weekend of the month from 1 p.m. to 5 p.m. You can taste our delicious pancakes while enjoying the view of the Museum's latest attraction: a life-size model of Brussels' future "M7" metro rolling stock, which will be delivered to the city before the end of this year!  
On top of this, a number of historical trams that usually don't venture outside the Museum very often will be used for trips on the Tervuren line. February's theme is "trams that should have run in the pre-metro". In 1967 STIB was preparing about 50 "standard" trams from the 1930s for use in the brand new pre-metro tunnels. A number of cars were revised, receiving better lighting and different destination blinds. This transformation was halted when authorities specifically forbade the use of wooden vehicles without automated speed controls in the pre-metro tunnels. Motor car 1505 (1968) and convoy 1609 + 604 (1967) are silent witnesses of STIB's plans.
Reduced fares for carriers of a "MoBIB card" from any Belgian transit company (STIB, TEC, De Lijn, …).
See below for our timetables during the winter season.